Martin van Creveld, Pussycats: Why the Rest Keeps Beating the West—and What Can Be Done about It.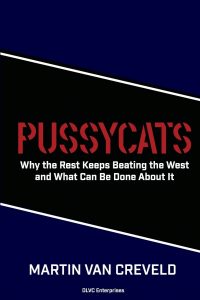 In the kingdom(s) of the West, something is rotten. Collectively, the countries of NATO are responsible for almost two thirds of global military spending. In terms of military technology, particularly electronics, communications and logistics, they have left most of the rest so far behind that it is no contest. Yet since at least the end of the Korean War back in 1953, almost every time they went abroad and fought non-Westerners they were defeated and had to withdraw without achieving their objectives. As happened, to cite but two recent cases, in Iraq and Afghanistan; and as may yet happen if and when Islam keeps spreading into Europe, as it is doing right now.
What went wrong? How did the ferocious soldiers, who between 1492 and 1914, brought practically the entire world under their control, turn into pussycats? Readers of this website will recognize some of my earlier attempts to answer these questions; now those answers have been extended and put together in a single book.
Chapter I, "Subduing the Young," focuses on the way Western societies raise their scanty offspring. Protecting and supervising them at every step; depriving them of any kind of independence; forcibly preventing them from growing up; and, if they refuse to sit still for so many hours as to drive any adult out of his mind, pathologizing them and dosing them with Ritalin (a close relation to cocaine, incidentally). Briefly, in the words of a recent American best-seller, turning them into "excellent sheep."
Chapter II, "Defanging the Troops," shows how the same is happening in the military. Troops may be, and routinely are, ordered to go to the other side of the world so as to kill and, if necessary, be killed in turn. Depending on the army in question, though, they may not be allowed to be in the streets after 2300 hours, drink a beer, wear uniform in public (lest they become a target for terrorists), watch pornography (lest the sensitive souls of their female "comrades" be offended) or visit a brothel. Briefly, they are not allowed to be men; notwithstanding that proving their manhood has always been, and always will be, one of the most important factors that make soldiers fight.
Chapter III, "The War on Men," examines the way in which the forces are being feminized affects, indeed infects, their fighting power. In theory female and male soldiers are treated equally as they should be. In reality the former are privileged in many ways. First, the system of "gender norming" means that the standards required from female soldiers during all kinds of training, courses, and tests are lower than those men must meet; with the incidental result that everyone's training suffers. Second, when it comes to pregnancy and delivery female soldiers enjoy privileges male ones do not have. Third, various factors have created a situation where, in quite some militaries, it is now easier for a woman than for a man to gain a commission with all the advantages that the latter brings. The further removed any arm of service from the front, the truer this is. Worst of all, though everyone knows these facts, no one is allowed to mention them even unconsciously; meaning that the entire military is based on a lie so big as to undermine the foundations on which it is built.
Chapter IV, "Constructing PTSD," looks at the history of post-traumatic stress disorder. PTSD, as it suddenly emerged during the American Civil War, is not so much a medical phenomenon as a cultural one. It is the product of a society which tolerates it and, all too often, encourages it and even celebrates it. It does so partly because the idea that war is bad for the soul is taken very much for granted; and partly because of the fear of litigation. Whatever the reason, things have got to the point where American troops returning from places like Afghanistan are now obliged to undergo annual testing for PTSD. Instead of feting its heroes, society, treating them like damaged goods, does what it can to humiliate them.
Chapter V outlines the emergence of modern societies which, exalting rights and forgetting about duty, have come very close to delegitimizing war itself. Especially in Europe, to use armed force for any purpose, specifically including self-defense or correcting a manifest wrong, has become almost taboo. For soldiers to express their pride, let alone joy, in their profession has also become intolerable.
Finally, the conclusions repeat the main problems. The also argue that, if Donald Trump is going to make good on his promise to "rebuild the military," he has is going to have his hands full.
Like all my books, Pussycats is written in jargon-less language laymen can understand. But it is also as thoroughly documented as academics would wish. Go ahead, you bold readers, and take a look!