Of Saint Augustine it used to be said that anyone who claimed to have read everything he wrote was lying. The same is true of Philip Roth. I do not claim to have read everything he has written. But I have read pretty much, and each time I add another volume I am astonished at how good a writer he really is.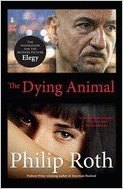 The Dying Animal, the book I want to discuss today, just fell into my hands by accident. Published as long ago as 2001, it is as fresh today as it was then. The basic story is simple. The life of the protagonist, David Kepesh, has been described in some of Roth's previous books. Now he is a moderately well-known art critic in New York. He appears on local TV and radio on a regular basis and teaches a class in "creative criticism." Needless to say, most of his students are young women. Each year he immediately notices the one he wants. There are, however, any number of spoilsports around. That is why he waits until the course is over and all the grades have been handed out. At that point he invites the students to a party at his home, and the mating game can get under way.
Her name is Consuela Castillo. She is twenty-four to his sixty-two. As Roth is careful to point out, the attraction is mutual. He is attracted to her reverence for him as well as her beauty. Especially the erect way she carries herself (she is Cuban, and very proud) and her "powerful" breasts. The latter she is careful to put on show by keeping the upper three buttons of her blouse open. She is attracted to the courteous way he treats her, his relative renown, and his culture. In addition to being a literary critic he plays the piano, albeit not too well. So different from men of her own age who "masturbate" on her body, as she puts it.
Some feminist critics, desperately jealous of their younger "sisters," have denounced Roth and his protagonist as typical male chauvinist pigs. For the benefit of any members of that extraordinary breed—feminists—who may be reading these lines, let me emphasize: Consuela is not an innocent victim. She has slept with men before. Even as she sleeps with David she also sleeps with others, including two brothers. She is neither too stupid to understand what is going on nor, as we soon learn, too weak to say no. In fact it is hard to say who, David or Consuela, leads the other in the minuet that slowly, inevitably, takes them to bed. By presenting Consuela as if she were an unwitting ninny, the critics in question do her a much greater injustice than David ever did. If, indeed, he did her any injustice at all.
In fact it is Kepesh, much the older of the two and very much aware of approaching death even when they are making love, who holds the weaker cards. She can throw him out at any time. A year and a half into their affair, when he refuses to join a party her family is throwing in which he would have to pretend he is nothing to her but a kindly old teacher, that is just what she does.
The loss of Consuela sends David into a depression that lasts for years. What we, the readers, get are his memories and his thoughts. About sex, that enormously powerful drive no one, young or old, can ignore. About nature which, for reasons of its own, has made men basically polygamous (marriage kills sex, is what Roth says not only in this volume but in several others as well). About nature which, again for reasons of its own, has made women want nothing as much as children, which of course implies a long-term, stable, relationship even if, over time, it becomes sexless. About the man—David's son—who, trapped into a marriage he hates, takes a mistress and is crushed by the resulting burden of guilt. About another man who, trapped into a marriage he hates, escapes from it, only to quickly enter into another one just like it.
About the young woman (not Consuela) who, overwhelmed by the freedom modern contraceptives provide her with, uses it to do exercise her right of sleeping around with anyone she wants and ends up with serial divorce and a nervous breakdown. About the woman who, determined to do whatever it takes to have a good career, attains that goal—only to discover that she is past the age at which one can fall deeply, deeply in love and that what she really wants, i.e. a family and children, is beyond her reach. About the childless couple who call five times a day so as to forget that, in reality, they have nothing to say to one another. And about the man and the woman, both of them unattached and independent and mature people, who are looking for a "pure" relationship based exclusively on free will and mutual attraction. Only to discover that time creates its own obligations and that such a relationship does not exist.
Another six and a half years have passed. David is seventy now. All of a sudden Consuela reenters his life. She is thirty-two, a young woman in the prime of life. Even better looking than before. But she has cancer. One of those glorious breasts is going to be cut off, and she worries no man will ever love her again. Besides, her chances of survival are just sixty percent. Of course she is terrified. Most of her immediate relatives having died, she turns—where else?—not to any of the young men she has slept with. But to the one man who, though he is no longer sexually attracted to her, she knows she can trust. Absolutely and unconditionally. She asks David to photograph those magnificent breasts of hers from every side and angle, which he obligingly does. Next thing he knows, she calls him. In the middle of the night. She needs him right by her side. And he knows that, if he goes, he will be "finished."
Roth is too good a writer to tell us the outcome of all this. But the moral, I think, is clear. However much we may twist and turn, and however much feminists may rant and rave, neither men nor women can escape from what nature has made them.a