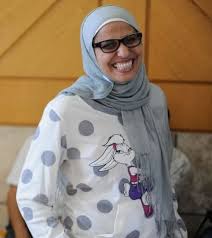 The Fourth Reich is rising. Not in Germany where, in spite of the recent elections, most people seem to have has learnt their lesson. But in Israel. The country which claims to be the only one in the Middle East which is democratic and in which free speech is allowed (nice of the authorities to allow free speech, isn't it?). The country where my parents, having narrowly escaped the Holocaust, (see on this my post, "How My Family Survived the Holocaust," 17.12.2015) immigrated. The country in whose military four of my five children have served. The country for which several of my relatives, acquaintances and students have died. The one in which I have spent practically all my life and which I have always loved.
No longer. For almost two years now a 33-year old Arab-Israeli (and self-proclaimed Palestinian) poet, Ms. Dareen Tatour, has been under house arrest. Far from home and relatives, with electronic cuffs on her leg, and without access to either a computer or a cellphone. Her trial got under way in April 2016, and has still not come to an end.
Did she kill an Israeli? No. Did she try to kill an Israeli? No. Did she assist terrorists or fail to betray them to the Israeli authorities, as those authorities, in their infinite wisdom and compassion, demand? No. Did she engage in any other out of God knows how many activities Israel has prohibited? No. So what why did the police knock on her door at 0400 in the morning, and what are the charges which could cost her eight years in jail?
Saying what she thinks. As by putting the following poem, originally written in Arabic, on Facebook.
Resist, My People, Resist Them
Resist, my people, resist them.
In Jerusalem, I dressed my wounds and breathed my sorrows
And carried the soul in my palm
For an Arab Palestine.
I will not succumb to the "peaceful solution,"
Never lower my flags
Until I evict them from my land.
I cast them aside for a coming time.
Resist, my people, resist them.
Resist the settler's robbery
And follow the caravan of martyrs.
Shred the disgraceful constitution
Which imposed degradation and humiliation
And deterred us from restoring justice.
They burned blameless children;
As for Hadil,* they sniped her in public,
Killed her in broad daylight.
Resist, my people, resist them.
Resist the colonialist's onslaught.
Pay no mind to his agents among us
Who chain us with the peaceful illusion.
Do not fear doubtful tongues;
The truth in your heart is stronger,
As long as you resist in a land
That has lived through raids and victory.
So Ali** called from his grave:
Resist, my rebellious people.
Write me as prose on the agarwood;
My remains have you as a response.
Resist, my people, resist them.
Resist, my people, resist them.
* Hadil al Haslamon, a 18-year old Palestinian girl who attacked—so the Israelis claim—a group of bullet-proof wearing, heavily armed, heroic Israeli soldiers with a kitchen knife and, like so many others, somehow managed to die after being shot "in the legs."
** Ali Kosba, a Palestinian teenager who threw rocks at an Israeli military jeep, shattering its windshield. Trying to run away, he was shot in the back and killed by a heroic Israeli colonel who, according to the military spokesman, "felt in mortal danger" of his life.