Here is a story that took place many years ago—about twenty-five, if memory serves me right. I was conversing with a high-up defense official in the Pentagon; since he is still alive, though retired, I shall not call him by name. He and I had known each other for some years, and I knew that normally he was the most tight-lipped of men. As, indeed, his position required him to be.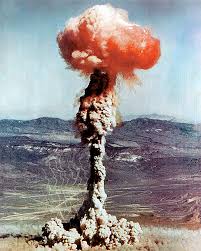 That day, however, he was feeling unusually expansive. We were discussing something, I can't remember what. "Martin," he suddenly said, "Out of about 30,000 persons who work in this building today, I am probably the only one who has actually seen a nuclear weapon exploding." And, he added, "It is not at all like what you see on TV."
From this point the story went as follows. In 1955—if memory serves me right—Mr. X, who at that time was a young economist cum mathematician, and a friend of his were invited to witness a one of a series of nuclear tests being conducted by the U.S Army in Nevada. Along with many others, they were told to sit down in the desert, about three miles from ground zero. Wearing goggles, they were ordered to turn their backs to the planned site, close their eyes, and put their faces on their arms and knees. Also, for heaven's sake not to turn around and look before counting ten from the moment of the explosion—or else, if they did so, they would go blind.
If these arrangements sound primitive, that is because they were. This, after all, was the period when U.S combat aircraft, carrying nukes, were standing at the end of runways in West Germany, ready to take off. With little if anything to prevent them from doing so if, for example, one of the pilots went mad. In Nevada, though, there was no time for ifs and buts. Both men were understandably worried about the possibility that they might turn around too early. But they did as they were told, waiting for the explosion to take place.
It turned out that they need not have worried. Not because the detonation was not powerful, but because it was much more powerful than they had thought. Miles away from ground zero, with their backs turned to it, with their faces on their arms and knees, wearing goggles and with their eyes closed, Mr. X and his friend actually saw it taking place. How was this possible? Because the light, reflected from the rocky soil, was so strong as to go right through all the obstacles that had been put in its way.
"Since then," he concluded, "I have been walking around with an idea in my head. Let there be assembled, every few years, a gathering of all the world's heads of government. Bring them to Nevada or to some other suitable site, and make them watch a real-life nuclear test. It might drive the fear of God into their heads." And, by doing so, contribute to world peace.
"It might indeed," I countered. "But consider the following. There could be, among all these people, a few who do not see your point. Instead of concluding that nukes are too awful to use, they might just say: 'How wonderful! I too want a couple of these things. Just in case!'" Whereupon we both laughed.
Why am I telling you this story? Because we now have, in the White House, the wildest, least restrained, president in the whole of American history. One who even many of his supporters think may be more than slightly mad. One who, by some reports, asked why his country should have nuclear weapons if it did not intend to use them. One who has openly threatened to launch an offensive war against another nuclear power. One whose verbal bellicosity seems matched only by his ignorance of the consequences that could follow if he carried out his threats. Not just for North Korea. Not just for South Korea, not just for the whole of East Asia, not just for the U.S. But for the entire world. Both present and future.
As Clausewitz wrote, many barriers only exist in man's ignorance of what is possible. With the result that, once they are torn down, they are not easily set up again. In plain English: if one nuclear weapon is used in anger, then it is very likely that all will be. And sooner rather than later.
There is, however, a silver lining. A few days after the crisis in Korea started, it seems to be more or less over already. The threats, instead of being translated into action, are beginning to fade into history. As, given that no nuclear weapons has been used in anger since 1945, so many other nuclear crises have in the past.
So perhaps Mr. X was right after all. If the prospect of a nuclear war can deter a Trump, then presumably it can deter anyone. Even a Hitler, if you ask me: see on this my recent book, Hitler in Hell. Meaning that proliferation, rather than nonproliferation, is the right route. If not to peace on earth and the brotherhood of men, at any rate to preventing major war between major powers.