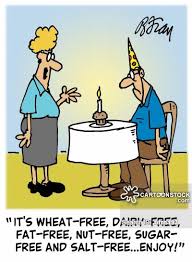 A stands for alcohol (of course), artichoke spinach dip (remember Popeye the Sailor Man?), avocado (if you're pregnant or breast-feeding).
B stands for bacon, bagels, baked beans, beer, biscuits, boxed pancake mix, bran muffins, burghers, butter.
C stands for cake frosting, candy (of course; the rules we do not ourselves stick to we have to inflict on our hapless children), canned soups, canned tomato sauce, chips, cereals, cheese, chicken wrap, chocolate, chocolate cakes, cholesterol, coffee creamer, colas (including both coca and pepsi), cookies, Corn Dogs, corn syrup, couscous, crackers, croissants (I really hate this prohibition, because my wife loves them), croutons.
D stands for deli meat, dipping sauces (most of them), donuts (of course, given how popular they are), Doritos, dried fruit, Dr. Pepper.
E Stands for energy bars and used to stand for eggs (except that the latter have now been declared healthy).
F stands for fast food, fish sandwich, flavored instant oatmeal, flavored nuts, flavored soymilk (apparently anything that has a flavor is bad for you), French fries, fried foods, frozen meals, fruit cocktail, fruit juices, fruit snacks (anything with fruit in it, it seems).
G stands for gin and tonic, gluten-free products, granola, grilled portabella sandwich.
H stands for hot dogs, hummus, hydrogenated oils.
I stands for icecream.
J stands for jams, jellies, junk food.
K stands for ketchup.
L stands for lemon (bad for the teeth), lunch meat (much worse than dinner meat, I suppose).
M stands for Mac (a coloring agent used in cheese), margarine, mayonnaise, microwave popcorn, monosodium glutamate (what one earth is that?) Mountain Dew, muffins (both low-fat and ordinary), multigrain bread, multigrain chips, mushrooms (and I do not mean just the poisonous ones).
N stands for nonfat cottage cheese, Nutrasweet.
O stands for olive oil, orange juice, organic snack foods.
P stands for packaged cookies, packaged turkey, parfait, pasta, pizza (both ordinary and veggie), Pop Secret, potatoes (according to the head of Harvard University's Nutrition Department, no less), potato chips, pretzels, processed meats, prepared salads (the alternative, of course, is unprepared salads; however, even my late bitch, Sandy, who always had a healthy appetite, rejected them), protein bars.
Q stands for quiche. Yuk, if you ask me.
R stands for ranch dressing, Ramen noodles, red meat, Reduced-Fat Italian Salad Dressing, reduced fat peanut butter (makes you wonder how healthy non-reduced fat peanut butter can be), rice crackers, rice milk.
S stands for saccharin, salt (without which, however, life is impossible), 7Up, Slim Fast Shakes, smoothies, soda, sodium, soy products, spinach pasta, sport drinks, Sprite, sucralose, sugar (and its opposite, sugar-free products), sunflower seeds, sushi (never mind that Japan has the highest life expectancy in the world), sweetened milk.
T stands for tea drinks, trail mix, transfat, turkey burgher.
V stands for veggie omelets, veggie patties, Vodka (a Russian drink, which God forbid).
W stands for white bread, whole wheat bread, wine.
X stands for Xanthan (for those who, like me, didn't know, it is a common thickener)
Y stands for yogurt.
Z stands for zucchini, if it is fried.
Is there anyone out there who has avoided all these foods and managed to stay alive? If so, please stand up and be counted.
*Compiled from a variety of websites. Any additions to the list will be welcome.