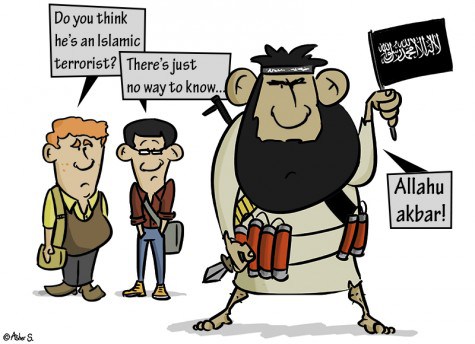 For the purpose at hand, it all started in Israel. Back in the early 1980s General (ret.) Ariel Sharon was minister of defense under Prime Minister Menahem Begin. Assisted by a Hebrew University Professor whose field was Islamic studies, he came up with the bright idea of forming a religious-conservative opposition to Yasser Arafat's Palestine Liberation Organization (PLO). The center of the movement was to be in Hebron, the principal city of the southern, and socio-economically less developed, part of the West Bank. In return for the right to rule over their people's day-to-day affairs, the so-called "Rural Societies" were to oppose the PLO and tacitly accept Israeli rule. The outcome? Hamas, meaning Islamic Resistance Movement. In 2006 it took over control of the Gaza Strip. Having done so, for years on end it waged a terrorist campaign against Israel. Though apparently cowed by Operation Protective Edge in 2014, it is even now threatening to renew the rocket attacks at any time it feels like doing so.
Others, the Americans in particular, have committed similar errors. First, during the early 1980s, came their attempts to resist the Soviets in Afghanistan. This meant supporting the Mujahedeen, a movement that combined nationalism and religion in fighting the Red Army which had invaded the country. And, yes, it worked. After almost ten years of warfare the Soviets were forced to retreat. And what happened? Some Afghan "freedom fighters" spread all over the world, promoting terrorism wherever they went. Others joined the Taliban and, later, Al Qaeda. Enough said.
Next, in 2003, came the invasion of Iraq. In the name of democracy, women's rights, and, some dared suggest, oil. To be sure, Saddam Hussein was not exactly a nice man. In 1990 he invaded and occupied Kuwait; defeated, he continued to tyrannize his own people. Earlier he had even used gas to asphyxiate his enemies. Yet he was neither a religious fanatic nor, it seems, more involved in terrorism than many other states are. Sitting in his "box," constantly attacked from the air, and laboring under sanctions that severely hurt his economy he had long ceased to present a danger to any of his neighbors. The invasion of Iraq, followed by his own execution, destabilized the country. It also stoked the religious antagonisms that had been waiting just under the surface of his secular rule. The outcome: massive terrorism committed by Shi'ites against Sunnis and by Sunnis against Shi'ites. Not to mention the birth of Daesh which started in Iraq and has since spread to Syria as well.
One might think that the West, with the US at its head, should have learnt something from its disastrous attempts to support religious Islamic movements. But no, no way. The next war in which the West intervened was the one in Libya. Again it was done in the name of democracy, humanity, and women's rights—the dictator and his collaborators, it was later claimed, had been raping their own female soldiers left and right. Again the opponent was a secular dictator. Muamar Gadhafi was as cruel as many and more quirky than most. But at any rate he was able to maintain order in his own country. During his last decade or so in power he even opposed terrorism. Following a civil war that lasted some six months, he was defeated and killed. With the result that his country fell apart and is now one of the happiest stamping grounds where Daesh is having a field day recruiting supporters and threatening Europe with terrorism.
Next, Syria. Like Iraq, Syria was ruled by a military dictator, Bashir Assad. As a ruler he was neither better nor worse than Hussein and Gadhafi had been. He supported Hezbollah against Israel and allied himself with Iran, in many ways acting as the latter's long arm on the shore of the Mediterranean. However, like the other two, he ruled his country with an iron fist and does not seem to have engaged in international terrorism. Not perfect, one would have thought, but as good a regime as a country like Syria can have. In May 2011 civil war broke out. In this war the West, and less actively Israel, found themselves siding with Assad's opponents. They even invented a "liberal" opposition which, as it turned out, hardly existed. Three years passed before Washington suddenly woke up to the existence of Daesh, a Sunni-led terrorist organization that had spread from Iraq. Again, enough said.
Yet another country, one in which a similar error was narrowly avoided, is Egypt. Coming to power, President Obama promised to reach out to the peoples of Islamic countries even if—partly because—it meant going over the heads of their loathsome despots. Feeble as it was, the attempt does seem to have played some role in the so-called Arab Spring. One country in which it did so was Egypt whose population rose against President Mubarak and toppled his regime. And what happened? In the only more or less free elections ever held in Egypt's 5,000 years' history, the Moslem Brotherhood won. The outcome for Israel, and therefore for the Middle East, in particular could have been catastrophic. Mounting a coup, General Assisi prevented the worst. But no thanks either to Obama or to the West as a whole.
Let's finally cease kidding ourselves. Arab countries, all of them without exception, are backward. Most are still tribal. That means that they are organized on lines other, more developed countries, have left behind centuries ago. Very few have what one would call a civil society consisting of a solid middle class. None has ever known the meaning either of democracy, or of the rule of law, or of human rights, or of freedom as Westerners understand it. During the middle ages they set up a brilliant civilization, or so historians say. Next, however, they missed the Renaissance. And the Reformation; and the Scientific Revolution; and the Enlightenment; and democracy in the form of the American and French Revolutions; and finally the Industrial Revolution as well. Not to mention the great and glorious Feminist Revolution, of course. Apart from that, they are the most progressive people in the world. Especially when yelling Allahu Akbar before sticking a knife into someone, or shooting him, or blowing themselves up.
Such is the situation. That is why, when it comes to an Arab country, the choice is always between a dictator—either hereditary or other, either with a moustache or not—and anarchy. A dictator may mean war. But that is something which, as the Israeli-Arab wars and the two successful campaigns (1991 and the first few weeks of 2003) against Saddam Hussein have shown, can be handled if necessary. What the West, and indeed the world as a whole, cannot handle is anarchy and the terrorism it spouts indiscriminately in all directions.
Will the idiots, and I don't mean the Arabs of whom nothing can be expected, ever, ever learn?