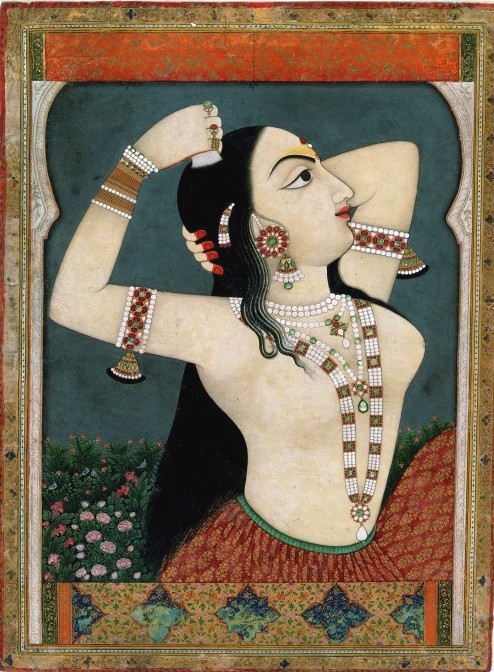 Ever since my first visit to India back in 2001, I always have an illustrated translation of the Kama Sutra not far away. Today I want to explain why I keep it and what I see in it. Not for any a particular reason—but simply because it pleases me to do so.
(Note, you yahoos who may be out there: don't expect any smutty stories, let alone steamy confessions. In case you have not yet noticed, that is not me.)
As some readers will know, the Kama Sutra (The Way of Pleasure or, as others translate it, Desire) dates back to the last centuries before the beginning of the Christian era. It is the oldest surviving Sanskrit text, a fact which may indicate its importance in the eyes of subsequent scribes who kept copying it. In the process various other bits, pieces and commentaries were added.
The best known English translation of the Kama Sutra was made by Sir Richard Francis Burton towards the end of the nineteenth century. Since then there have been many others, some by people whose native language was English, others by Indian scholars. Translations into other languages also abound. These editions vary considerably in what they include, what they exclude, and the number of pages they contain. For those who are interested, the one I have was published by Bookwise, New Delhi, in 1999.
Burton himself was a traveler, explorer, geographer diplomat, and occasional spy who worked first for the East Indian Company and then for the British Government. Above all, he was a demon linguist who often took only weeks to master a new language. By the time he died he had learnt no fewer than thirty, or so people said. Throughout his life he published a vast number of works on geography and ethnology, many of them heavily annotated.
The reason why he translated the Kama Sutra as well as some other erotic works is of some interest here. Today most of us are convinced that, when it comes to what is and not permitted in the bedroom, it is the West, having gone through the so-called "Sexual Revolution," which is freer, less inhibited, and psychologically healthier than other civilizations. Aren't the media full of stories about all the terrible things Moslems in particular do to their poor enslaved women? Burton's view was exactly the opposite. Partly perhaps because he was married to a strictly Catholic wife, partly because he had his experiences over much of Africa and India, he saw his Victorian contemporaries as sexually ignorant, straight-laced and frustrated. In this view he was later joined by many others from Sigmund Freud down.
Freud's method in trying to rid his patients of their neuroses and set them free was to put them on the couch and psychoanalyze them. Burton sought to achieve the same goal by having them read and savor oriental erotic literature. Not always with success, as it turns out. Some years ago I wrote a magazine article in which I quoted a couple of lines from the Sutra. Whereupon the editor, a good friend, asked why I was troubling him and myself with such smut. It turned out that he had never laid his eyes on the book. Whereupon I sent him an illustrated copy. What he did with it, if he did, I do not know.
Ever since Burton translated it, the Kama Sutra has owed its fame above all to the endless lists of sexual positions it contains. Each has a name, and each is explained in some detail. But two observations need to be made. First, only about one fifth of the book deals with the positions in question. Second, almost any non-fiction ancient Indian book one opens will be found to contain similar lists of various things. Why? Because dividing reality into different parts, categorizing it, slicing it (like a loaf of bread, so to speak) was the typical Indian method of coming to terms with it and understanding it. Not the most entertaining one, some might feel, but certainly one that is as valid as any other.
So let's forget about the positions. The rest of the book consists of advice, less in sexual questions than in those that pertain to love. Presumably because most people could not read, much of the advice is aimed at well educated, well to do, men belonging to the upper classes. Some is aimed at women, particularly courtesans who have no man to feed and protect them and who must fend for themselves.
To explain why I admire the book as much as I do, here are some typical verses. The translation is by Indra Sinha, an English writer of Indian descent. His novel, Animal's People, was shortlisted for the 2007 Man Booker Prize and winner of the 2008 Commonwealth Writers' Prize for Europe and South Asia.
Never touch the wife of a relative,
Friend, high-priest or king.
Ignore [the] commonly quoted dictum
That these women may be enjoyed
If they have slept with five or more lovers.
Within the context of a society based on rigid class distinctions, this is sound, even tender, advice. However:
…adultery
corrupts both men and women
ruins their characters, destroys virtue and wealth.
Men and women with any wisdom
will never even think of doing these evil things.
And what does a desirable woman look like?
Her heavy breasts
Are firm as ripened pomegranates,
like jars of beaten gold.
High they ride,
Twin bosses on the brow of Krishna's elephant.
The image of pomegranates also occurs in the Song of Songs, though in a somewhat different context. I go on reading:
The wise know also that physical pleasure
Is not the sole end of lovemaking.
It can be like music, stirring the emotions,
quickening the senses, dissolving
Thought into rhythm, until only rhythm exists.
And here is what the Kama has to say about love blows, so beloved of the hucksters and fucksters that crowd the Net:
Try always to remember, therefore,
That your lover is much weaker than you are
and passion is much stronger.
Furthermore, since not all girls like being struck,
Think twice before you use the love blows.
Both tender and realistic, isn't it? And now, to courtesans. The basic assumption is that women do not like to make love for money but are sometimes led by circumstances into doing so. To be successful, a courtesan must be clever without showing it too much and look after herself first without going too far in this direction. She must study and master the sixty-four arts including drawing, decorating a house, music, dancing, acting, conversation, using scents and perfumes, and playing a good party of chess (remember Miranda playing with Ferdinand in Shakespeare's The Tempest?). However:
The greatest courtesans are beauties
With alluring youthful bodies,
Sweet voices and charming manners.
They adore lovemaking
And value a man's character above his wealth.
Neither tricking nor deceiving their lovers
Faithful and self-possessed.
These girls are connoisseurs of the arts
Devoted to the gods
And welcome at every society gathering.
How absolutely wonderful.