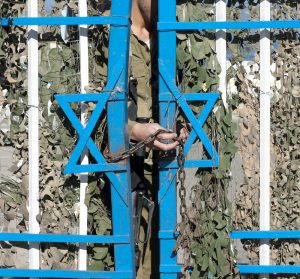 I am an Israeli. And proud of it. Several times on this blog I have praised my country's virtues. As I tried to show in my book, Land of Blood and Honey (2010), over the last century no country on earth has achieved more. Demographically—there are now a hundred times as many Jews living here than there were in 1914—economically, politically, militarily, scientifically, culturally, you name it. When I first arrived I was just four years old. Not only have I spent almost my entire life here, but I very much hope my children and grandchildren will do the same.
That is why I am worried, more than worried, about certain things that have been happening in my country. Today, I want to share my worries with my readers.
* Some months ago, the Knesset passed a law which enabled a majority of 90 to vote and dismiss any one of its 120 members simply for speaking their mind about certain topics. For example, saying, as former Prime Minister Ehud Barak once did, that, if he or she were a Palestinian, he might join a terrorist movement against Israel, might cause the trigger to be pulled. As if speaking up is not what the members of Israel's parliament, like those of any other legislative assembly in democratic countries around the world, have been elected for.
* Israel has some forms of communal settlements in which members have the right to vote on which new residents to admit. This has been used to bar Arab citizens. Though a court order has reaffirmed the right of Arab citizens to join the settlements in question, that order has never been implemented.
* For years now the police has been demolishing houses built by the Bedouin in the Negev. In the latest incident of this kind, mayhem broke out and a Bedouin as well as a policeman were killed. All because the government has suddenly decided that the permit to settle the area, issued sixty years previously, had been illegal.
* Bezelem (In the Image: after a sentence in the book of Genesis, according to which God created man "in His image") is a voluntary Israeli organization. For many years now, it has been collecting and publishing evidence about the way Israeli troops in the West Bank, both IDF and Border Police (in practice, there is hardly any difference) have been treating and mistreating the local Arab population. In 2013, its tax-free status was revoked.
* "Shovrim Shtika" (Breaking the Silence) is a somewhat similar organization. The difference is that it is made up of officers and soldiers who spent time serving in the Occupied Territories. As the name implies, it too has something to say about the chicanes to which the local population has been and is being subjected. Recently its members' right to speak in schools and certain public buildings has been curtailed.
* Another organization whose tax-free status has been subjected to re-examination is Amnesty, the largest of its kind world-wide. In the end its status was re-established, but just for one year.
* As some of you will have heard, last week a high court decision issued a long time ago was finally carried out. Amidst scenes of considerable violence Amona, a West Bank settlement that had been built on private Palestinian Land, was demolished. So far, so good; no sooner had Amona been taken apart, though, than the Knesset passed a law that officially "regulated" the status of thousands of other Jewish houses built on private property in the West Bank. This is not just contrary to international law: it is robbery, pure and simple.
* Last not least, Israeli law has an arrangement known as BAGATZ, the only one of its kind in the entire world. Under this arrangement any citizen or organization—not just the parties involved in a legal dispute—has the right to approach the supreme court as a court of first and last instance, asking it for a resolution against government actions that, in their opinion, violate the law. It was a BAGATZ that ordered Amona to be evacuated. And it is a BAGATZ that will hopefully counter the "Regulating Law" just passed. What I find worrisome, very worrisome, is the attempts of certain right-wing politicians to curtail the power of the BAGATZ and/or change the system by which supreme justices are selected in such a way as to make the court more compliant.
What did the French feminist Simone de Beauvoir say? Often it is not those who criticize their country who love it the least.
PS Last week this site had a technical problem which blocked access for a few hours. Thanks to all of you on Facebook who inquired and took the trouble to let me know. As we Dutch say, het geeft de burger moed (it gives the citizen courage).