What is love? Throughout the ages, as many answers have been given to this question as there are poets. Here, motivated by the fast-approaching 31st anniversary of my wife and myself, it pleases me to provide my own answer. Much of it I learnt from her. Needless to say, there are many kinds of love.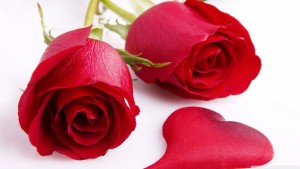 However, the following discussion only refers to the one between a man and a woman. Or perhaps—I have no experience in the matter—also in same sex unions.
The kind of love I am speaking about involves one's entire being. It has two parts, a mental and a physical. Both are equally important. When everything works as it should, they reinforce each other. The former has the power to magically transform physical spasms into a union that almost deserves the name sacred. The latter seals the former. I would, however, add that, if, after all these years, I had been forced to choose, I would go for the former. And do so, what is more, without regrets.
Love is a miracle. What attracted Julia to Romeo and Romeo to Julia? Why him? Why her? What made each of them so unique as to inspire the other to sacrifice his or her life? Shakespeare does not say. Nor do ten thousand psychologists and their even more numerous studies. Probably it is better that way. In one sense, pre-determined love is not love at all.
We do not love the other because he or she is particularly well-shaped or beautiful. To the contrary: the other becomes beautiful and well-shaped because we love her or him. Says the Bible: "Therefore shall a man leave his father and his mother, and shall cleave unto his wife and they shall be one flesh." Not just for a moment, which is something animals do as well as we do. But all the time, sharing both pain and joy.
One very peculiar thing love does is to turn the other's faults—and who does not have them?—into virtues. One loves coming into the bathroom and see that the other has forgotten to shut the toothpaste tube. The other loves seeing the note, complete with its characteristic spelling error, left for him or her in the kitchen with instructions to do this or that. These and a thousand similar things remind each of the other. They make them smile to themselves, knowing that the feeling is mutual.
There are also some things lovers should never say or do to one another. Some depend on personality and differ from one case to the next. Others are common to everybody. Never pull rank. Never badmouth your other in front of others. Never try to make him or her jealous. If you feel that criticize you must, do it in such a way as to make your good intentions obvious (humor, but not sarcasm, helps). And so on. To be sure, being human we make mistakes. Therefore, if we say or do such things, we should apologize just as soon as we can. And make sure the error is not repeated.
Love seems to work on three different levels simultaneously. The first consists of our—at any rate my—need to have somebody to look up to who is more than I am. More intelligent (at least in some ways), better, kinder, nobler. That does not mean the other is superior in every respect. As Simone de Beauvoir once wrote, a relationship based on inferiority versus superiority is not love. All it means is that the other is better than I am in some ways and that, as a result, I value and adore her like a queen.
The second level is that of partnership. We all need somebody whom we can trust. Absolutely, unconditionally and until death us part. Somebody who will stand with us at the time, to quote the great early twentieth-century Italian poet Gabriele D'Annunzio, when, having armed the prow, we cast off and sail ahead. Life is a voyage into the unknown, and often a pretty hazardous one at that. One which very few people can, or should, embark on without the kind of partnership I am talking about here.
The third level is that of trying to do what one can to make the other as happy as one can. Even to the point of spoiling him or her. Not just because what one gives is really needed. That would be either duty or charity, but not love. But simply because there is joy in giving.
Each of the three elements can and often does exist apart from the others. But it is only together that they amount to true love. They are symmetrical, i.e there is no difference between men and women. They also presuppose a certain kind of equality. That does not mean that each side must have exactly the same rights and duties. Rather, it refers to the kind of love that, making the strengths of each obviate the weaknesses of the other, enables both partners to make the maximum of their lives, both separately and together.
To this rule there is one very important exception. Physically men are considerably stronger and more robust than women on the average. Also, nature seems to value women's lives more than men's. These facts give women some rights men do not and should not have. Men are duty-bound to defend women. There used to be a name for that: chivalry. That is a word feminists, filled with hate and envy, have dragged through the mud as they have so many other things. The reverse does not apply. A man who lays down his life for a woman is looked upon as a hero, with good reason. A man who allows a woman go lay down her life for him becomes an object of derision. Also, in my view, with very good reason.
It is not enough to feel love. One must show one's feelings. One early morning Richard Wagner had a small band assembled in front of his wife, Cosima's, window. Waked by the music, she became the first to hear the notes of the Siegfried Idyll. How I envy him for being able to lay such a gift at her feet! Luckily we do not need to. A word of praise, a gesture of welcome. A smile, a hug, a kiss, a small present at the appropriate moment. Normally it should be done in private. However, here and there doing it when some others, friends, are present can cause no harm.
Finally, it is not true, as Freud and so many others thought and think, that time and habituation necessarily cause love to become tepid and wane away. Provided all the above elements are present, it is as likely to become stronger, deeper and more tolerant. But that does not happen on its own. It takes both goodwill and some effort.
For me, after thirty-one years, the most beautiful moments in life still remain the same. They are those in which she spontaneously breaks into song and I join her. Or the other way around.
The funny thing is, neither of us can sing very well.