For a quarter century now, political correctness has been the blight of our age. Using intolerance to enforce what they call tolerance, its self-appointed guardians always seek reasons to take offense and force their victims to apologize while simultaneously squeezing as much money out of them as possible. On the way they have corrupted whatever they touched, turning discourse into a stinking, horrible goo. In academia—where many universities now have groups of vigilantes consisting of students out to humiliate professors—in the media, in public life, they keep spewing forth a single poisonous message. Beware of what you are saying; or else. Even in private, for walls have ears. And even if you have been making an innocuous joke.
They have long since ended any kind of straight talk, any right to call a spade a spade, any attempt to do serious work that might hurt their alleged sensibilities. With them went many, perhaps most, attempts at original, incisive expression. In respect to the range of subjects they censor they have put nice, open-minded gentlemen such as Philipp II of Spain—he of the Inquisition—Josef Stalin, Adolf Hitler, and Mao Zedong to shame. Worst of all, by forcing the rest of us to keep using euphemisms they have made people doubt whether they are being told the truth, increased their paranoia, and decreased their readiness to believe anything they hear or see.
Enter the Donald. He is possessed of as big an ego as all of his casinos, hotels, plazas, resorts and towers combined; no other man I can think of so well fits what former vice president Dan Quayle once described as a "temperamental tycoon." Probably more so even than Ross Perot who was the original target of that jibe. Needless to say, I have never met the Donald and do not expect to do so in the future. From what I see and hear I do not think he is particularly likeable or that I miss much. I do not know what makes him tick. Nor whether his run for the White House will be successful, nor whether he has what it takes to be a good president. Not being an American citizen or an admirer of Netanyahu, whom Trump has publicly praised, I cannot even say any of this interests me very much.
What, in my eyes, makes him unique is that, rather than hide behind all kinds of polite euphemisms, he keeps saying what he thinks about people and things. Without apology and without concern for the consequences. Being dugri (blunt, or straightforward), as we Israelis say. Also that, thanks to his billions, and perhaps an incipient change in public opinion, he is getting away with it as few others can or have. Nor does the way he talks and acts seem to hurt him in the polls. To the contrary, he has made the media follow him and listen to him. Some positively beg him to appear on them. To the point, he says, where he actually found himself spending less than he thought he would have to.
Some people see Trump as a clown (one acquaintance of mine fears he may turn out to be a Mussolini). Many others half believe, half hope that his appeal is already fading. Ignorant of foreign affairs and lacking a proper organization, they say, he will never be able to gain the presidency. No matter. Even in the unlikely case he disappears tomorrow, he has already achieved something important; namely, shaken the barriers on free thought which the professional enforcers of political correctness have been so busily surrounding us with. May others follow his example, and may the barriers disappear like the cobwebs which, in reality, they are.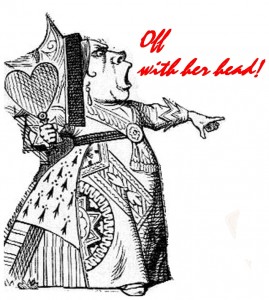 And that reminds me of Lewis Carroll, famed author of Alice's Adventures in Wonderland (1865). Towards the end of the volume the Red Queen is about to have another one of her servants executed. The following dialogue develops:
"Stuff and nonsense!" said Alice loudly "The idea of having the sentence first [before the verdict]!"
"Hold your tongue!" said the Queen, turning purple.
"I won't!" said Alice.
"Off with her head!" the Queen shouted at the top of her voice. Nobody moved.
"Who cares for you?" said Alice (she had grown to her full size by this time.) "You're nothing but a pack of cards!"
At this the whole pack rose up into the air, and came flying down upon her; she gave a little scream, half of fright and half of anger, and tried to beat them off, and found herself lying on the bank, with her head in the lap of her sister, who was gently brushing away some dead leaves that had fluttered from the trees upon her face.
"Wake up Alice dear!" said her sister; "Why, what a long sleep you've had!"