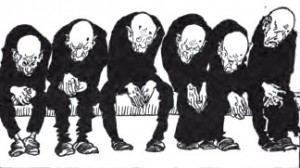 For those of you do not know, Ray Kurzweil is an American author, computer, scientist, and inventor. He pioneered many different devices—not that I understand what all of them actually do—and is currently director of engineering at Google. The list of awards and prizes he has received would fill an article in itself.
Another thing this obviously highly gifted, enormously dynamic man has done is bring into vogue the term "singularity." The way I understand it, a singularity is a change so great that it will usher in a completely new world while simultaneously rendering all previous history irrelevant. As will happen when computer technologies start exceeding human intelligence many, many times over—an event, Kurzweil says, which cannot more than a few decades away.
Personally I am not even sure what intelligence means. Nor, as far as I know, does anybody else. Hardly a day passes when some psychologist does not proudly announce his or her discovery of some new kind of intelligence. Wikipedia, admittedly not the most profound source, lists the following: the capacity for logical thought; abstract thought; understanding (whatever that may mean); self-awareness; communication; emotional knowledge (what is that?); memory; planning; creativity; and problem-solving. I can think of a few others: such as musical intelligence and the ability to recognize visual patterns (which, in my case, is terribly underdeveloped). Will computers really be able to do all these things as well as, let alone much better, than we can? And what does "better" self-awareness mean?
Furthermore, I am a historian. We historians often speak of revolutions: the Glorious Revolution, the American Revolution, the Russian Revolution, the Chinese Revolution, and so forth. All of these were comparatively brief, cataclysmic, usually very violent, upheavals which changed the world. Or at least that was what most of us felt when they happened. As time goes on and research probes deeper, though, we always find two things. One is that the supposed revolution has roots going deep into history, sometimes decades if not more. The other is that even the greatest revolutions leave as many things unchanged as they generate new ones. As the French saying goes, plus que ça change…
Here I want to focus on just one kind of singularity/revolution Kurzweil is promising us: to wit, a victory over death that will give us eternal life. Eternal in the sense that all our experiences, feelings and thoughts will be recorded on some kind of electronic device and implanted into some kind of robots who, in this way, will become "us." Thank you very much, Ray. The last thing I need is to "live" in such a way, presumably with hackers stealing the information and spreading it over the Net so anyone, but anyone, can become me just as I can become him or her.
Kurzweil himself hopes to live enough to see the "singularity," which he thinks is 30-40 years away (he was born in 1948, two years later than me), with his own eyes. To do so he is taking as many as 150 pills a day. Will he succeed? I do not know. Nor, as long as I do not have to become a robot, do I care. What I do want to do is to briefly discuss two books that describe a world in which death has been not just postponed but abolished.
Proceeding in reverse chronological order, the first is Death with Interruptions by the late Portuguese Nobel-Prize winning author Jose Saramago (1922-2010). One day, the people of a certain unnamed country stop dying. The immediate outcome is great joy and celebration. However, neither the celebration nor the joy last for very long. The first outcome, obviously, is to bring about the collapse of the funeral industry. It is quickly followed by the collapse of other services such as hospitals—which get filled up—as well as the Church. That is because, the afterlife having been abolished, it is no longer needed. With the fall of the Church much of the social order, too, collapses. The country is filled to overflowing with criminals who collude with the government. Also, and more important to our purpose, with incoherent, helpless, stinking, bags of skin and bone, bringing about a government crisis.
Saramago could have added, but does not, other problems. Surely the end of death would quickly lead to overpopulation. It would block the young and prevent them from ever taking over; and force them to spend their remaining lives looking after the old. Not, I would say a very enticing prospect for our children and grandchildren. Instead, the novel ends with death feeling sympathy for one man, a terminally ill cellist. Death puts on the guise of a thirty-eight year old woman. For it/her he plays as never in his entire life. Then they go on to make love. A more beautiful description of a lovers' tryst I have never read. And then, at the end of the novel, death, thank goodness, takes back its normal place in human affairs.
The other book is even more famous. I am, of course, referring to Jonathan Swift's Gulliver's Travels (1726). One of the places Gulliver visited was Luggnagg, located southeast of Japan. Most of the inhabitants of Luggnagg are quite ordinary. There are among them, though, certain individuals known as struldbrugs. They seem normal, but in fact they are immortal. You can recognize them by the red dot on their foreheads.
Until the age of thirty or so they are like all others. At that time they begin to realize the terrible fate that is in store for them. Namely, never to be released from this life. They become dejected and morose. The more so because, as in the Greek mythological story about Eos (Dawn's) lover Tithonus, in Luggnagg eternal life does not mean eternal youth. Their hair turns white and falls out. Their teeth drop, and their senses and minds dim.
That is why, once they reach the age of eighty, they are declared legally dead. Any offices they may hold, and any assets they may have, are taken away. They live on a pittance without honor, without profit, and, above all, without being of any use to anybody. Basically, as in Saramago's novel, they are nothing but incoherent, helpless, stinking, bags of skin and bone.
Isn't this, in many cases, just the way it already is today? And do we really want to have our lifespan extended even more than it already has been?