I was born in 1946. That means that Ringo Starr, John Lennon, Paul McCartney, and George Harrison—here listed in the order in which they were born—all were or are a little older than me. Now I am 69, which is a few years more than the character about whom, in one of their most memorable compositions, they sang:
When I get older, losing my hair, many years from now
Will you still be sending me a valentine, birthday greetings, bottle of wine?
If I'd been out 'til quarter to three, would you lock the door?
Will you still need me, will you still feed me, when I'm sixty-four?

You'll be older too
Ah
And, if you say the word, I could stay with you

I could be handy, mending a fuse, when your lights have gone
You can knit a sweater by the fireside, Sunday mornings, go for a ride
Doing the garden, digging the weeds, who could ask for more?
Will you still need me, will you still feed me, when I'm sixty-four?

Every summer we can rent a cottage
In the Isle of Wight if it's not too dear
We shall scrimp and save
Ah
Grandchildren on your knee
Vera, Chuck, and Dave

Send me a postcard, drop me a line, stating point of view
Indicate precisely what you mean to say, yours sincerely, wasting away
Give me your answer, fill in a form, mine forever more
Will you still need me, will you still feed me when I'm sixty-four?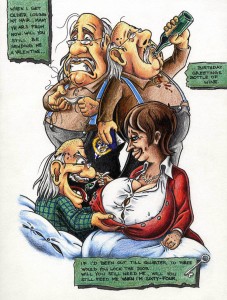 They wrote and performed the song, and I first listened to it, back in 1967. At the time my own parents were in their late forties and being sixty-four years old seemed so far away as to be almost inconceivable. Here I want to address the question, to what extent did the Beatles' expectations—happy expectations—match my experience?
Thinking about it, I must say, to a very large extent. To proceed in reverse order, yes, my wife of thirty-something years is still with me. We keep nourishing each other in every sense of the word—day by day, week by week. Yes, we have several darling grandchildren, aged 11 years to six months, on or near our knees. Yes, we rent a cottage every summer—not in the Isle of Wight, mind you, but in Potsdam near Berlin. Luckily we do not have to scrimp and save for doing so.
I do work in the garden, a very small one to be sure, and I do dig up weeds. Dvora does knit a sweater occasionally (most of the time she paints). We often go for drives on the weekend, either taking a walk somewhere or visiting friends and relatives. We do enjoy anniversaries, birthdays, greetings, and a bottle of wine. And, yes, I have lost practically all my hair.
But there are also some differences. Turning around 180 degrees and proceeding from the beginning of the song to its end, normally it is she and not me who does most of the minor technical jobs that have to be done. She is also the one who deals with the occasional help we need to do work we cannot do or can no longer do; such as, for example, re-painting the townhouse in which we live.
The most important difference, though, is that, at sixty-nine, I do not just potter around. Instead I work harder than ever, writing one book after another. The reason why I do so is because I enjoy writing as much as, or more than, I have ever done. And the reason for that is because old age, in spite of all its problems, often brings in its wake certain kinds of freedom younger people cannot readily imagine. That includes freedom from the need to constantly worry about one's offspring, who are now adults and fully able to look after themselves. Freedom from the need to please employers and/or clients; freedom (in my case) from publishers, given that I can post anything I please on this blog or on Amazon.com; and, finally, the freedom only the knowledge that death is no longer so very far away can bring.
And then there are the things that did not happen. True, physically neither of us is what we used to be. Where the lithe woman I once met? Where is the athlete who used to run miles and miles up and down the hills around Jerusalem, feeling like a god as he did so? The answer, in both cases: long gone.
On the other hand, neither of us is "wasting away" either. Perhaps that is because, over the last half-century people's life expectancy has gone up by almost a decade. If so, bless the doctors, bless the pills, and bless whoever and whatever is responsible. And yes, we do suffer from some ailments—Dvora more than I—which the Beatles did not mention. However, to-date these are comparatively minor matters. All in all, "Who could ask for more?"
And that, all you hard-working, stressed, twenty- thirty- and forty-somethings with mortgages to pay and kids to raise, who worry about what life may have in store for you when you are sixty-four, is why I am writing in praise of old age.
Your old age, I hope.