Martin van Creveld, Equality: The Impossible Quest, Castalia House, 2015.

Reviewed by Vox Day.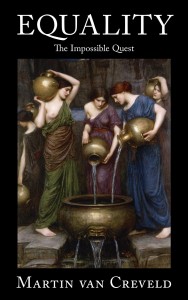 All over the Western world gaps between rich and poor are widening—or the headlines say. Nobody has done more to spread this view than the French economic historian Thomas Piketty whose best-selling volume, Capital in the Twentieth Century, not only documents the process but represents one long call for reducing the gaps so as to create a more equal society. But what is equality? Who invented the idea, when, where, and why? How did it develop, grow, mature, and interact with other ideas? How was it implemented, and at what cost? Are we getting closer to it? What is the promise? What is the threat?
There is equality before God and equality here on earth. There is natural equality and the kind of equality that society creates. Some people, incidentally, want to extend equality to animals and plants as well. There is equality of body and there is equality of mind. There is economic equality and there is equality before the law. There is civic equality and there is political equality and there is equality of opportunity and there is equality in front of death. There is equality among individuals and there is equality among groups, nations, and races. In Aldous Huxley's celebrated book, Brave New World, this truth is held to be self-evident that men (and women, though Huxley does not say so) are equal in respect to their bodies' physico-chemical makeup but in no other way. The list goes on and on.
Equality: The Impossible Quest considers all these problems and then some. It begins by considering our primate relatives as well as various historical societies that never heard of equality. Next, it traces the development of the idea and its implementation in various societies throughout history. This include ancient Greek equality as realized in Athens and Sparta, monastic equality in both East and West, social revolts aimed at establishing equality, utopian equality, liberal equality of the American and French Revolutionary varieties, socialist, communist and kibbutz equalities, Nazi equality, the equality of women and minorities, and biological equality through medical and genetic science. The last chapter deals with the greatest equalizer of all, death.
This survey of the history of equality demonstrates that the vast majority of human societies have not only survived, but thrived without equality. And it appears that despite its popular appeal, if carried too far, equality will present a threat to justice, liberty, and even truth. More problematic still is the observable fact that the various versions of equality tend to be contradictory. For every form of equality achieved, another must often be sacrificed. That is why the attempt to establish it on a lasting basis has, in every previous instance, proven ephemeral.
Equality, especially absolute equality of the form Plato, Rousseau, and their modern successors are seeking, is a dream. When one takes into account the costs it involves, the contradictions to which it inevitably leads, and the tremendous quantities of blood that have been shed in its name, it is hard to conclude that the dream of equality is a beautiful one.
Martin van Creveld's history of equality is an intellectual tour de force that is more education than polemic. Throughout the book, the author's natural sympathies toward the basic concept of equality are readily apparent, but his scholastic rigor and integrity are too strong to be influenced by them. Which is why, in the end, the reader finds himself more than ready to respect, and more importantly, to accept, van Creveld's reluctant conclusion. However desirable it may appear to us, however much it may appeal to us, we have little choice but to understand that Man's quest for equality is an impossible one that is doomed to failure by virtue of its own inherent contradictions.