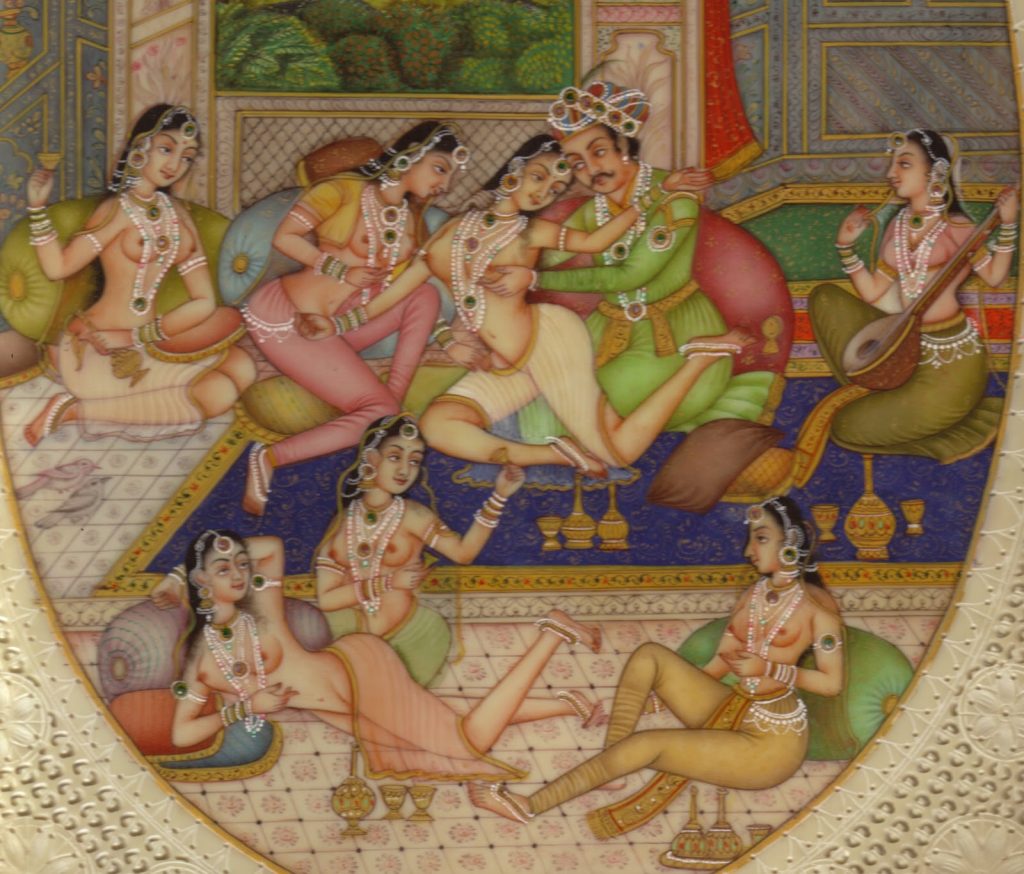 Let there be no doubt: Men who talk about women the way Donald Trump does are pathetic. Men who treat them the way he allegedly does are even more pathetic. As Nietzsche wrote, noble is he who respects himself. Which the Donald, whatever his other virtues, clearly does not.
But whether such talk and such behavior should really disqualify the Donald or anyone else from serving as president of the most powerful country on earth is another question. After all, if elected he would hardly be the first ruler in history who had sex on his mind. Julius Caesar was perhaps the greatest commander who ever lived, yet had so many affairs with married women in particular that his own troops called him, "the bald fornicator." Augustus was as great a statesman as the world has ever seen, yet the historian Suetonius says that at his banquettes he liked to be served by naked girls selected for the occasion by his wife, Livia.
Augustus the Strong (reigned, 1697-1706), the king of Saxony to whom the world owes the beautiful city of Dresden, had so many illegitimate offspring that it was said of him that he took his duty of pater patriae literally. By contrast, Richard Nixon is said to have been faithful to his Patricia. Did that make him a more honest politician?
Thinking about it, perhaps the US and other modern countries would do well to revive the ancient institute of the harem at the White House and its equivalents. In Arabic, a harem is a sacred place that is out of bounds. For example, Jerusalem's Mount Temple is known to Muslims the world over as Haram-al Sharif, the Noble Sanctuary.
Harems are an ancient institution. One of their functions was to provide relaxation, as in the above image. But they also served a very serious purpose: namely to make sure, as far as possible, that rulers bearing a heavy responsibility—not seldom, including their subjects' lives and deaths—would at any rate be spared that particular problem. So as to be able to focus on their task instead.
To speculate a little, in a democratic age full of self-conscious, emancipated women entry into the harem can only be voluntary. As, throughout history, it often was; many parents were happy to hand over their daughters to an institution where they would be supported, educated, and taught all kinds of interesting arts. Those sufficiently attractive and sufficiently clever might even rise to take key positions in the empire or kingdom.
It goes without saying that the women should be over eighteen, the age at which they are supposed to be sufficiently mature to vote. They should be made to sign a contract, freely renewable by both sides upon expiration, to stay for so and so long. Some way would have to be found to ensure that they understand what was required of them—these days, too many women, young and old, claim that they just did not. And also to guarantee secrecy. Leaving the harem, the women would receive a generous sum of money and perhaps a bonus as well. You bet that there would be plenty of volunteers—just ask Hugh Hefner.
But that is not what it pleases me to write about today. By one story Victorian women, riding trains through dark tunnels and afraid lest strangers try to use the opportunity to kiss them, were advised to put needles in their mouths. Later things became more straightforward; a woman kissed or groped in public was told to slap her attacker or at least yell at him. And that was that. No damage done, except to the attacker's reputation. One of those who advocated this strategy was the late Israeli MK Shulamit Aloni (1928-2014). A liberal and a one-time minister of education under Yitzhak Rabin, she was also as proud a feminist as they come.
Since then much water has flowed down the Jordan and, for that matter, the Rhine and the Mississippi. Throughout the world, billions of women have been exposed to feminist propaganda concerning the evils of "patriarchy" and the need to do away with them. Millions have been through "assertiveness" training, and millions more have been "empowered" in so many different ways as to easily fill a library. Countless committees have been created, seminars held, recommendations written, and regulations issued. All in an attempt to make more women hold their own against those wicked tyrants, men.
Enter the Donald's accusers. Whether their stories are true, as they claim, or not, as he says, does not interest me here. What I do find strange is that, after decades and decades during which the females of the species have been "empowered" in every possible way, the women in question still did not have what it takes to give him what, according to them, he deserved. So dumb are some of them that, at the time, they do not even understand they have been "harassed" or "abused." Or so they claim.
Miserable creatures! Like snakes in the grass, they spent years and even decades nursing their grievances, real, imagined, or simply invented for the occasion. And waiting for a suitable opportunity. Only then, and only when they had their behinds protected by the likes of the New York Times, did they finally crawl out of their hiding places, screwed up their "courage," went public, and injected their venom into the presidential race. Or was it just greed and the wish for the fifteen minutes of fame?
And what does going public mean? Whining, of course. About how unable to help themselves they felt. About how humiliating the experience was. About the deep and lasting psychological damage they suffered, the psychotherapy they needed, the compensation they deserved, and so on. If these and other women who come up with similar claims are lying, then they are pathetic. If they are telling the truth, then in some ways they are even more pathetic.
As to what to think of an electorate, now made up mostly of women, that in today's dangerous world is only interested in what happens from the waist down, make up your own mind.