I get feedback on my articles. For that I am grateful; it makes me think. Recently someone took issue with my claim that, in the military, where there are women there are no bullets and where there are bullets there are no women. How about the brave Kurdish women who are fighting Daesh? Don't they make up 30-35 percent?
30-35 percent of what? I asked. After all, women make up nearly 30 percent of the Israel Defense Force. Nevertheless, in the so-called Second Lebanon War of 2006, 130 male soldiers were killed against just one female. The 66 IDF soldiers who died in operation Protective Edge in 2014 did not include a single woman. So just what do 30-35 percent mean?
Regarding the fighting Kurdish troops  he answered rather brusquely. In support he sent these sites:
http://rudaw.net/english/kurdistan/28092014

http://www.syriadeeply.org/articles/2014/08/5923/isis-advances-kurdish-female-fighters-stand/ 
I opened them. They did not mention any figures on the ratio of brave Kurdish fighting females to brave Kurdish fighting males. And the headline? Here is what it read: "No Frontline Deployment for Female Kurdish Troops."
What the article did say was that, in a place called Dobruk, there is or was a colonel who commanded "a 30-woman unit." Strange, that: since when do colonels command platoons? Isn't their job to command brigades in which there are normally 27 platoons as well as other units? Never mind. The purpose of the unit? "To show," says the colonel, "that we are different from IS, which will never let women fight." In other words, propaganda. Though whom the propaganda is intended for, the Kurds themselves or their slavering Western admirers, is left unsaid.
That business disposed of, I decided to do a little research. And yes, I did find a BBC article titled, "Kurdish women fighters wage war on Islamic State in Iraq (photo report)." It claimed that women made up some thirty percent. Thirty percent of exactly what? Military personnel (assuming that, in a place like Kurdistan, there is a clear distinction between the military and civilians)? All kinds of support troops? Fighters who actually hold a gun, fire at the enemy, and are fired at in return? The article provides no answers. What it does provide are nice-looking pictures of women posing with Kalashnikov assault rifles. So do a great many similar sites.
The words "photo report" are important. Many years ago, Nazi propaganda minister Joseph Goebbels used to tell his public that "pictures do not lie." That, of course, was itself the greatest lie of all. I do not want to imply that the BBC was lying. Only that doing so with the aid of pictures is, if anything, easier than with words. One takes a good looking, somewhat dark-skinned, woman in some dilapidated-looking setting. One pays her a few dollars. Many women (and men) will help even without the dollars. Some will happily sell their grandmothers simply in order to appear on BBC News or some similar show. The paperwork having been settled, one puts her into something that looks more or less like a uniform. To add a local touch, her head may be adorned by a kefiyeh. One gives her the rifle which she does or does not know how to fire. One makes her stand up and pose, kneel and pose, lie down and pose. Easy.
Another article claims that the Kurdish Peshmerga have "hundreds" of female troops. Hundreds out of how many? 250,000, as The Guardian, 22.2.2015, claimed? And what do they actually do? Have "Daesh on the run," as an article in Toronto Sun, published on 18.8.2015, claimed? Frankly, I did not know Daesh was on the run. The latest I read was that, according to US intelligence agencies, "Daesh remains as powerful today as it was in mid-2014. It can replace fighters faster than any other military organization on earth" (Albawaba News, Egypt, 13.8.2015). Notwithstanding that more than 60 countries, a third of the total, are trying to counter it. But back to the women. In proportion to their number in the Peshmerga, how many women fight weapon in hand? How many were killed or wounded? Nowhere could I find clear answers.
And why the Kurds? All Western armies now have legions of heroic fighting females. So why should anyone go all the way to Kurdistan, normally not the most important, progressive, or interesting place in the world, to hunt for them? Shouldn't they be everywhere? Perhaps the history of the Greek Amazons provides an answer. Originally they were supposed to live in Phrygia, not far from the city of Troy which they vainly tried to save from the Greeks. Next, since they could not be found there, they shifted their habitat to the country north of the Black Sea. When they could not be found there they shifted their habitat to Libya. Next, since they could not be found they moved into the "frontiers of the inhabited world." Or so the historian Diodorus, who wrote between about 60 and 30 BC, says.
Wherever Greek armies and colonists arrived they eagerly looked for Amazons. Failing to find them, they did their best to fake them. By one legend, the Amazon Queen Thalestris presented Alexander the Great with 300 of her subjects in the hope that they would conceive and have children as strong as he was. Perhaps because Alexander does not seem to have been terribly interested in women, though, nothing came of it. Some subsequent Greek and Roman rulers put captive "Amazons" on display during victory celebrations and the like. Freaks, they knew, always draw crowds.
From then to the present, the question has not been whether women fight in war. Except on rare occasions, usually such as are linked either to insurgencies or to last-ditch home defense, they do not. The question, rather, is why fighting females have such a strong hold on the male imagination.
For an answer, I shall select just example. In Berlin there is the world-famous Pergamon Museum. Inside the museum there is the altar built by King Eumenes II at some time between 200 and 150 BC. So stunning is it that I have seen visitors standing in front of it, speechless and unable to move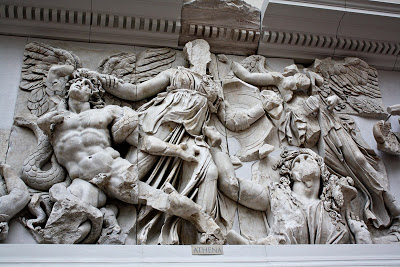 In the present context the important sculptures are those of Zeus, the father of the gods and the strongest among them by far, and his warrior daughter Athene. The unknown artist has portrayed Zeus as one would expect him to be, i.e. as the very image of a bare-chested, powerful, dominant male with muscles and pubic hair to match. Not so Athene who obviously presented the sculptor with a problem. On one hand she had to look robust ("Pallas," in Greek, one of her epithets) in order to appear credible as a warrior. On the other she cannot be made to look too robust. Or else she will make her male partner in battle less credible. Besides, it is necessary to make clear that she is a woman. How to reconcile the conflicting demands? Here goes. Her arms, which are considerably weaker than those of Zeus, have been left exposed. There is no bare chest, no pubic hair. Instead the left half of her chest is encased by armor. The right one is covered by a thin, almost transparent, fabric that leaves her nipple clearly visible.
The combination of combat with cleavage continues to fascinate the male mind. Throughout history, that fascination has led to strange results. Down to the end of the nineteenth century female on female duels—there were a few—always drew crowds of leering men. Nowadays the same happens wherever a "catfight" is announced. Nothing like a couple of half-naked women bashing one another to get spectators on their feet! Meanwhile real fighting women remain as rare as they were when Alexander vainly looked for them.
Or else, conscious of his public relations as he was, merely pretended to do so.