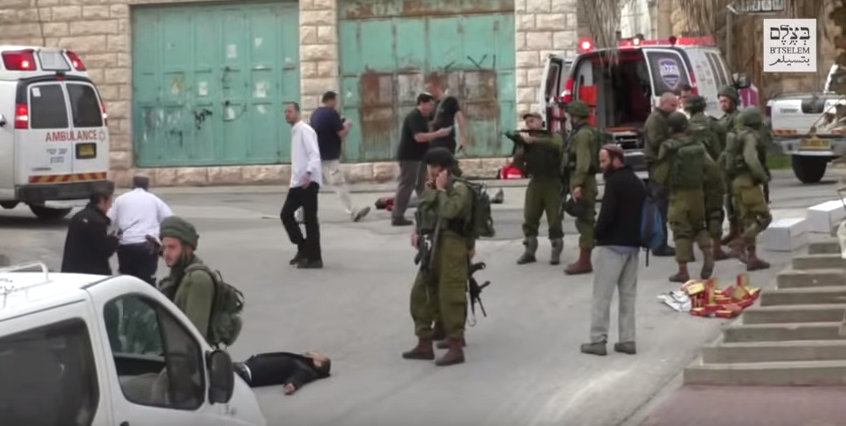 The killing last week by an Israeli soldier of a wounded Palestinian terrorist who was lying helplessly on his back has sent the country into a turmoil. No sooner was the picture published on the Net then the Israeli media mounted a wave of protest. Taking up from there, Prime Minister Netanyahu, Minister of Defense Yeelon, and chief of staff Eisenkot quickly denounced the deed and promised that the soldier in question would be put on trial and punished. This was followed by the Israel Defense Forces (IDF) attorney general's announcement that the charge would be murder.
Israelis like to think that theirs is "the most moral army in the world." Consequently there was much palaver about the IDF's "ethos," its "values," and so on. But not everyone agreed that the killer was in fact being treated as he deserved to be. Not only did his family and friends stand by him, but images of him, in handcuffs, led to an equally strong wave of protest in his support accompanied by rioting. That caused Netanyahu, a weathervane if ever one there was, to soften his original stance on the case pending a court investigation. Not content with that, right-wing politicians, smelling blood, entered the fray. They lionized the soldier and accused the chief of staff of failing to back his troops. One notorious extreme right-wing activist, Itamar Ben Gvir, demanded that the police investigate Be-Tzelem, the humanitarian organization responsible for taking the image and spreading it. One rabbi has even suggested that, for having the soldier tried, the chief of staff himself should be put on trial.
In his defense, the soldier claimed that the terrorist was moving and that he was afraid that he, the terrorist, might be carrying an explosive belt on his body. This was denied by the man's commanders and made doubtful by the fact that the terrorist, who had been lying there for no fewer than six minutes before he was killed, had been examined and found unarmed. As always happens in such situations, charges and countercharges quickly multiplied until they congealed into a single opaque, stinking, tissue of truths and falsehoods. I do not know what the outcome is going to be. But I am prepared to bet that the soldier will not be punished as murderers in Israel usually are, i.e. with life in prison. Assuming he is punished at all, almost certainly he will get a pardon of some kind.
All this is still in the future. Meanwhile the fallout from the case is splitting Israeli society from top to bottom. Not to mention other soldiers' justified fear that, should they be caught in a similar situation or commit a similar deed, their superiors, instead of backing them up, will wash their hands of them. To be sure, the State of Israel and the Israel Defense Forces (IDF) are not the world's worst human rights offenders. Unfortunately, though, they are bad enough.
Sun Tzu, in the first chapter of his celebrated On War, says that victory will go to the side who keeps the favor of heaven—meaning, the moral advantage—by formulating rules of behavior and sticking to them. I agree. For those of you who have never read my best-known book, The Transformation of War, or who have forgotten its contents, here is what I wrote about this topic a quarter century ago:
"[Suppose a war] where one belligerent is much stronger than the other. Under such circumstances, the conduct of war can become problematic even as a matter of definition… Over the long run… fighting the weak demeans those who engage in it, and therefore undermines its own purpose. He who loses out to the weak loses; he who triumphs over the weak also loses. In such an enterprise there can be neither profit nor honor. Provided only the exercise is repeated often enough, as surely as night follows day the point will come when enterprise collapses… Since the very act of fighting the weak invites excess, in fact is excess, it obliges the strong to impose controls in the forms of laws, regulations, and rules of engagement… The net effect of such regulations is to demoralize the troops who are prevented from operating freely and using their initiative. They are contrary to sound command practice if they are observed and subversive of fighting discipline of they are not. Hence Clausewitz's dictum, plainly observable in every low-intensity conflict fought since World War I, that regular troops combating a Volkskrieg are like robots to men.

A sword, plunged into salt water, will rust…A strong force made to confront the weak for any length of time will violate its own regulations and commit crimes, some inadvertent and others not. Forced to lie in order to conceal its crimes, it will find the system of military justice undermined, the process of command distorted, and a credibility gap opening up at its feet. In such a process there are neither heroes nor villains, but only victims: whom the gods want to destroy, they first strike blind."
Mr. Netanyahu, are you listening? For God's sake, GET OUT OF THE TERRITORIES!!!