As some readers know, my wife and I spend part of each summer in Potsdam. On the face of it the city has remained what it used to be. The relaxed atmosphere on the most important throughway, the Brandenburger Strasse with its eighteenth-century, two-story, houses; the beautiful flat countryside, fit for walking; the even more beautiful lakes, ideal for swimming; and the superabundance of cultural facilities both in Potsdam itself and in neighboring Berlin.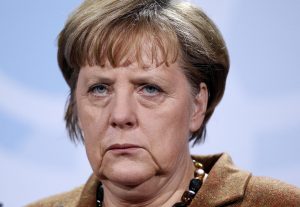 Yet under the surface Potsdam, and with it Germany as a whole, seems posed for the greatest challenge since at least re-unification back in 1989 and possibly even since the end of World War II back in 1945. How to best explain what has been going on? Perhaps by referring to the position of Frau Angela Merkel, the long-time chancellor who has now been in charge of the country's destiny for eleven years. Two years ago she was on top. Both in Germany and abroad, many saw her both as the best chancellor Germany had ever had and as the most successful woman in the world; by contrast, her opponents seemed to be bleating in the wilderness. I myself was able to witness this, watching the spontaneous applause with which she was received when, in her typical unassuming way, she attended a Bundeswehr ceremony in Berlin.
No longer. Perhaps in Germany more than abroad, Frau Merkel is now the topic of fierce debates, not seldom accompanied by the kind of language we have come to expect of Donald Trump and his ilk. By some polls, no fewer than two thirds of voters want to get rid of her. The reason? The way she has dealt with the hundreds of thousands of refugees flowing into the country. In particular the words, "wir schaffen das" (we shall make it, i.e. successfully "integrate" the newcomers) have become by far the most famous ones she has ever uttered. Unless something truly dramatic happens, they are likely to be remembered as her legacy.
Frau Merkel grew up in the former East Germany. Such being the case, she at first seemed a strange choice for dealing with Germany's past; that past which her native country had always firmly refused to confront but which, in both Germanies, simply does not want to go away. Both abroad and, except for the usual lunatic fringe, in Germany itself, her ability to create the impression that she not only understood but cared was one of the main reasons why people admired her as much as they did. Perhaps the fact that her father was a Protestant clergyman helped.
In come the refugees. From Albania, from Libya, from Syria, from Iraq, even from places as far away as Afghanistan. They do not speak the language. They have no education. They have no skills—in Germany, a country in which skills are acquired by means of lengthy and carefully organized apprenticeships, that counts as one of the worst sins of all. They have nothing and have to be supported, economically, at a cost that sometimes makes Germans who are on welfare or simply pay their taxes green with envy and resentment.
Some refugees resolutely refuse to "integrate," insisting on retaining their own culture in respect of food, clothing, and the treatment of women and homosexuals. Contrary to what one sees on the media, which likes to present veiled women and innocent children being carried by their parents, the great majority are unattached young men; that fact, as well as sheer poverty, explains why they commit far more crimes than their numbers would warrant. Including some which can only be described as terrorism, and including some which their perpetrators themselves describe as such. I am told that, in the Rhineland, there are entire prisons inhabited exclusively by immigrants.
Some other EU countries, notably those of Eastern Europe, have resolutely challenged Brussels and refused to accept Muslim immigrants. Others, though subtler, also do what they can to put all kinds of obstacles in their way and, where possible, get rid of them. However, partly because it is a central pillar of the EU—which, without German support, would quickly far apart—and partly because of its own past, Germany cannot do the same.
Unfair? Yes. After all, a quick calculation shows that even the grandparents of young Germans under 25 cannot have participated in Nazi crimes in any meaningful way. The same goes for the parents of anyone under sixty years or so. To have been eighteen, the age at which, back in 1945, people were drafted into the Wehrmacht or Waffen SS, one must be at least 89 today. That only applies to less than one percent of the population.
So the sons, the grandsons, and in some cases even the great-grandsons are paying for their ancestors' sins. One and all, they have been nailed to the swastika from which nothing and no one can liberate them. No wonder the "extreme" right, in the form of newspapers such as the Junge Freiheit and parties such as AfD (Alternative fuer Deutschland, An Alternative for Germany, which, incidentally, is led by a woman) is flourishing). Let me emphasize: neither the Junge Freiheit nor the AfD are in any sense Nazis. To the contrary, well aware that their opponents are doing whatever they can to describe them as such they do whatever they can to stay away from any such accusations. The Junge Freiheit, for example, is conservative. Knowing them well, as I do, I sometimes feel they would like to turn the clock back to 1871 if not before.
And how does Frau Merkel respond to the problem? By denying that there is any. So far she and the establishment she heads, consisting of the moderately right wing CDU and the moderately left wing SPD, have been able to hold down the lid on their people's growing resentment. But for how long? And what happens then? As Hamlet might have said, those are the questions.