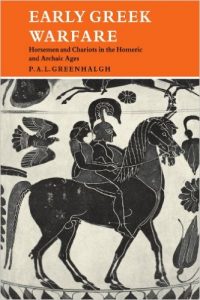 I have in front of me a book by a British scholar, Peter Greenhalgh, named Early Greek Warfare. Published by Cambridge University Press as far back as 1973, it is a scholarly treatment of the topic clearly aimed at the specialist. On the cover there is a sixth- or early fifth-century BC image of a two men amicably riding side by side. Originally it was painted on a vase now at the Martin-von-Wagner Museum in Wuerzburg. The vase shows the couple twice, once from the right and once from the left. As you can see, the older man is a warrior with powerful shoulders. He is wearing a tall helmet of the so-called Chalcidian type as well as greaves; he is also carrying a shield and two spears. The younger looks more like a teenager and is not nearly as strongly built. Unarmed, all he wears is a light tunic with very short sleeves, showing his slender, immature arms.
The men are probably on their way to war, and the eagle at their back was meant as an auspicious omen. Never mind. To anyone at all familiar with ancient Greek history, the image—in my view, a beautiful one indeed—strikes a chord. What we see is neither a casual encounter nor a so-called "Platonic" one. It is a homosexual couple consisting of the lover, or erastes (from eros, sexual attraction), and his beloved, or eromenos. The latter was usually a young boy in his teens. Modern scholars agree that such relationships were socially approved. In some cases they may even have formed part of a semi-official initiation rite. One not too different, say, from those practiced until not so long ago by some tribal societies in Papua-New Guinea during which the novices were made to fellate grown men as part of obtaining the essence of masculinity. Provided only the relationships were consensual—there was, nota bene, no age of consent—Athenian law allowed them. Indeed one scholar has claimed that they formed "the principal cultural model" for what a free relationship between citizens could and should be.
The Summer of 1942, a 1971 novel that was later made into a film, told the story of an affair between an American teenager and a woman several years older than he. It was based on real events; however, so considerable are the differences between the film and the book (by Herman Raucher) on which it is based that it is hard to say what really happened. Hence I shall not discuss it here.
Fast forward to 1998. In Germany the book, "Wir waren Hitlers eliteschueler" ("We used to be Hitler's Elite Students) was published. It is a collection of short essays, each written by a former student at one of the so-called Napolas, short for Nazional-Sozialistische Politische Erziehungsanstalten. Taking the place of the old Kadettensschuelen, or schools for cadets, which the Allies after World War I ordered closed, the Napolas enlisted twelve-year olds and graduated them six years later. Somewhat similar to America's military academies, they emphasized history, "racial science," drill, and sports. Competition to enter them was keen, and looking back on their experience many of their absolvents had little but praise for them.
I shall not go into the question as to how good or bad the schools were, the extent to which they were and were not responsible for all the terrible things the Nazis did, and so on. My point is rather that one of the former students, who was fifteen years old at the time, tells how he befriended a young woman living nearby. She was lonely—perhaps her boyfriend or husband was at the front. The rest followed of itself. Again, looking back on his experience, he only had good things to say about it.
Four years later another book made tis appearance. The author was the world-famous Israeli writer Amos Oz; the title, A Tale of Love and Darkness. It, too, has been made into a movie, albeit one that never attracted as many viewers as The Summer of 1942 did. Oz, who was born in 1939, moved to a kibbutz after his mother killed herself. There while still a teenager, he either seduced or was seduced by—it is hard to tell—a female teacher twice his age. In the end it was she who put an end to the affair. Decades later, while on a lecture tour in the US, Oz met a woman who looked strikingly like her. Going up to greet her, it turned out that she was his former teacher's daughter who had come to listen to him. The mother was also present. She was, however, in a wheelchair. Suffering from Alzheimer, she did not recognize her former student.
Any number of similar episodes, some involving boys, others girls, could be cited. Let me make myself absolutely clear: I am not saying that people should start breaking the law and have sex, even consensual sex, with minors. The law is the law, and it has to be obeyed. Still it is useful to know that in Japan, not exactly the most backward country on earth, the age of consent is 13. In China, Brazil, and several other South American countries it is 14. The same applies to Austria, Estonia, Hungary, Italy Liechtenstein, Macedonia, Montenegro, Portugal, Serbia, and Germany. The total number of people who live under these laws, as well as in some "developing" countries I did not list, must be little short of two billion. The German case is particularly interesting. As long as a person over the age of 21 does not "exploit" a 14- to 15-year-old youth, there is no problem. For such a person to be put on trial, a complaint from the younger individual is required; in which respect German law resembles ancient Athenian one.
As the above examples show, there is some evidence that having sex with older people, whether hetero-or homosexual, can be good, or at any rate not bad, for at least some boys. As to the law, not only is it quite arbitrary but it is rooted in social attitudes. Attitudes which, since they vary from one civilization to the next, have little if anything to do with what young people do or do not understand, can or cannot do, want or do not want. Let alone with "basic" human nature at this age or that. Such being the case, it is quite possible that, in at least some cases, the "cure," which today usually consists of punishing the older partner and actively compelling the younger one to assume the role of a victim, does more harm than good.
As to girls, there seems to be a near-universal consensus that they develop faster, and reach maturity earlier than boys do. So draw your own conclusions.