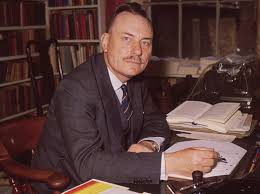 The name Enoch Powell is unlikely to strike a chord with most of those who are under sixty years old. Yet at the time I took my PhD in London (1969-71) he was all over, frequently appearing on TV ("the telly," as people used to call it), radio, and the papers. Today it pleases me to write a few lines about him. My reasons for doing so will become clear by and by.
Enoch Powell was born at Stechford, a borough of the city of Birmingham, in 1912. The family was lower middle class; his father, Albert, was an elementary schoolteacher, his mother Ellen, a housewife. Their somewhat constrained economic circumstances did not prevent Enoch from receiving a first class education, first at home—it is said that by the age of three, he could already read fairly well—and later at various grammar schools. Typical of the age, the most important part of the curriculum was formed by the classics, especially ancient Greek (a thorough mastery of Latin was considered self-evident) in which Powell soon revealed himself as a real prodigy. Later, at Cambridge, he not only received the highest possible, and extremely rare, grades but added German, modern Greek, Portuguese, Welsh, Urdu, and Russian.
In 1937 Powell, having completed his studies, went to Australia where, employed at the University of Sydney, he became the youngest professor in the entire Commonwealth. From there he sent letters to his parents expressing his disgust at Prime Minister Neville Chamberlain's "terrible exhibition of dishonor, weakness and gullibility" in his attempts to appease Hitler. "The depths of infamy," he added, "to which our accurst 'love of peace' can lower us are unfathomable."
Returning to England as soon as World War II broke out, Powell joined the army which appreciated his linguistic skills and put him into its intelligence service. By the time he got out in 1945 he was a brigadier general, the youngest in the entire service. Entering politics, he was elected to Parliament as a conservative member, making several speeches against Constitutional changes which, the way he saw it, were slowly but surely leading to the breakup of the British Commonwealth and of Britain itself. He wore his immense learning lightly; his measured, eloquent and, above all, extremely clear delivery—I remember watching him on TV—soon turned him into a star performer. Throughout the late 1950s and early 1960s he occupied a variety of senior positions, reaching the peak of his career in 1962 when he was appointed Secretary of Health under Harold Macmillan. This post he occupied until 1964 when Labor under Harold Wilson won the elections, pushing the Conservatives into the opposition. In 1965 the Conservative leader Edward Heath appointed him shadow Secretary of State for Defense.
It was during his time in the opposition that Powell first started drawing national attention by pointing out the danger of unrestricted immigration from Commonwealth countries. Especially Kenya which, over the previous few decades, had become home to many Indians and Pakistanis. Discriminated against and oppressed by the country's new African rules, the people in question sought refuge in Britain. At the time I was living in Kilburn, a relatively poor neighborhood in northwestern London where I often encountered them. On one hand there were the Indians who set up small neighborhood shops and, by working themselves and their families very hard indeed, started their way up the social ladder. Contrasting with them were bands of young Moslems who, the papers said, were sometimes subject to what was popularly known as Paki-bashing.
It was a year or so before my arrival, on 20 April 1968, that Powell gave the speech for which he will forever be remembered:
As I look ahead, I am filled with foreboding. Like the Roman, I seem to see 'the River Tiber foaming with much blood' [referring to the Sybil in Virgil's Aeneid]. That tragic and intractable phenomenon which we watch with horror on the other side of the Atlantic but which there is interwoven with the history and existence of the States itself, is coming upon us here by our own volition and our own neglect. Indeed, it has all but come. In numerical terms, it will be of American proportions long before the end of the 20th century. Only resolute and urgent action will avert it even now.
The reaction, both in Parliament and in the media, can be imagined. The day after he held the speech Heath, as leader of the opposition, took Powell's post as shadow minister of defense away from him. The same Heath, however, later admitted, in private, that Powell might have been "prescient." He remained a member of Parliament until 1987, but was never again offered a cabinet post. From then to the present, in spite of warnings more numerous than the stars in the sky, no British government has dared taking the "resolute and urgent action" required. Instead, it contented itself by inventing reasons why such action was not required.
And now, feeling abandoned to their fate, some of Britain's people are beginning to take matters into their own hands.