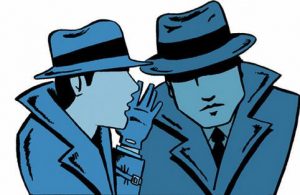 Here is a story I heard many years ago. On one occasion, someone asked US President Lyndon Johnson how important the various intelligence services—of which the US has plenty and to spare—were to his job. His response? I never got anything from the hush-hush crowd that I could not read next day on the pages of the New York Times. And there is a reason for that, Johnson is supposed to have added. Intelligence people are experts in gathering information. Journalists are also experts in gathering information. The difference is that the journalists are usually better.
The story may or may not be true. Assuming it is, Johnson may have meant what he said. Or else he may have been deliberately downplaying the role of secret intelligence so as to conceal the fact that he knew more; after all, dissimulation is said to have been one of his outstanding qualities. I can think of several other interpretations. No matter. Presumably we shall never know.
Why this story? Because, a couple of weeks ago, I was privileged to hold a public lecture here in Jerusalem. My topic was, "Where did the Iranian Threat Go?" A riddle indeed, considering the number of times Prime Minister Netanyahu referred to the issue; not to mention his repeated threats to bomb Iran so as to prevent it from building a bomb.
I took the occasion to argue, as I have often done on this site among other places, that the Iranian nuclear threat to my country was largely a myth. As I spoke, I did not have to wait for the Q&A to know what my audience was thinking—I have been through it so many times before. Do you, as a scholar, have access to secret intelligence? No, I do not (nor am I sure I would like to; such access creates its own constraints). If so, how do you know what you claim to know? Good question, that: and one which I want to address here.
Point No. 1. I do not claim to know nearly as much as the intelligence services about how many centrifuges Iran has, where they are located, by how many meters of concrete they are protected, how much enriched uranium they have produced, etc. Here I am largely dependent on the journalists, who themselves derive much of their information from the spies, who almost always have their own agenda in mind in releasing it at the time, and in the form, they do.
Point No. 2. Information of the kind just referred to, however accurate, is meaningless on its own. To understand its significance it is first necessary to answer much broader questions. Such as the roots of Iran's behavior; its objectives; and its constraints. Briefly, its national strategy and the role its nuclear program is playing within that strategy. When it comes to these problems, the information at the disposal of scholars is often quite as good as, if not better than, that of the spies or, for that matter, the journalists.
Point No. 3. When it comes to still broader questions, such as the impact of nuclear weapons on international relations, the history deterrence and of proliferation, and so on, scholars may well be better informed than either spies or journalists. The reason being that members of these professions are unlikely to have the leisure to look into such problems as thoroughly as they should.
Point No. 4. Spies and the agencies for which they work often come under political pressure to tell decision-makers what they want to hear. An outstanding, indeed outrageous, example was provided by the attempts of the Clinton and Bush administrations to "prove" the existence of weapons of mass destruction in Iraq. What things did they not do, what stories did they not invent! Such as mobile laboratories for manufacturing germs, and God knows what else. I once had the pleasure of spending an hour with Hans Blix, the UN commissioner who headed the team appointed to find those weapons. He told me, as he has told others, how the Americans did it. Scholars, working in an academic environment, are much less likely to come under pressures of this kind.
Briefly, spies have their advantages. For any government, military, and even large corporation they are a must. But they cannot operate on their own. To some extent, this is recognized by the intelligence services themselves. Or why else recruit, train and use "analysts" as well as "collectors"?
I myself have some experience with this. Time upon time over the years, I have had meetings with intelligence people and journalists from all over the world. Quite a few visited my hometown near Jerusalem specifically in order to discuss various issues with me. Including events in countries such as Afghanistan and Iraq. Time upon time, I expressed my surprise at the fact that they, who had been to those countries, came to see me, who had not. The answer I got was always the same: by adding context, you can explain to us what we have seen, heard, and experienced.
To which I can only say, Amen.